ABOUT
Geoffroy Laumet is an Assistant Professor in the Department of Physiology within the College of Natural Science. His research focuses on understanding the neurobiology of chronic pain.
Dr. Laumet received his Ph.D. from the University of Lille Nord de France/ French Institute of Health and Medical Research. He completed his postdoctoral training at the University of Texas MD Anderson Cancer Center, where he was also an Instructor prior to joining MSU.
RESEARCH
Dr. Laumet's research aims to improve our understanding of how pain transitions from acute to chronic, in order to facilitate drug development and improve the quality of life for patients with chronic pain. His lab investigates the interaction between cancer cells and neurons in a preclinical model of Head and Neck Cancer (HNC). Cancer cells activate "pain-sensing" neurons and induce de novo axon elongation. The Laumet lab is researching how and why cancer cells communicate to these "pain-sensing" neurons. To address the contribution of neuro-immune and onco-neuron interactions to chronic pain, the Laumet group combines molecular, biochemistry, immunostaining, pharmacology, viral gene therapy, cell transfer and animal behavior in experimental models of chronic pain.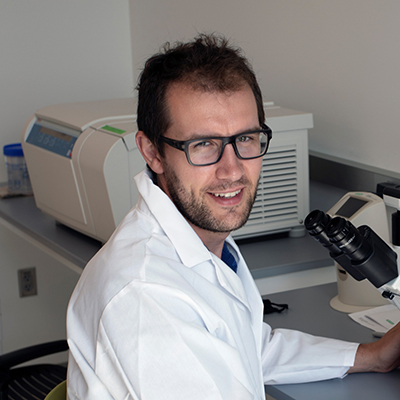 CONTACT
laumetge@msu.edu
Office: 517.884.5057
Lab Website: https://www.laumetpainlab.com