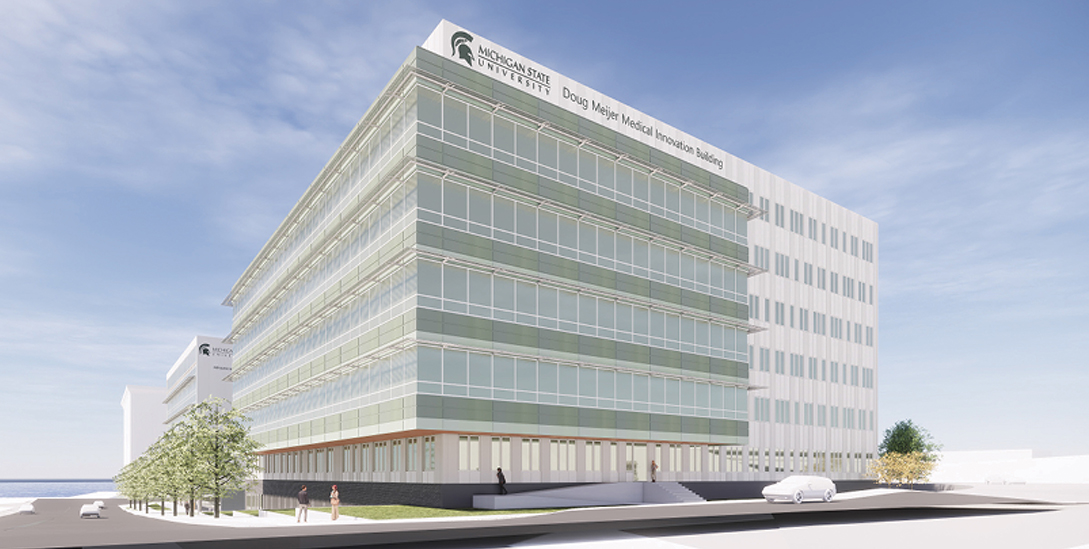 The second phase of the Grand Rapids Innovation Park includes a new building next to the Grand Rapids Research Center. The 200,000 square foot building, slated to open late 2021, will include tenants spanning private industry and health care teams focused on disciplines like cancer research, neurodevelopmental and neurodegenerative disorders, artificial intelligence and medical device development. The facility will also include a cyclotron-equipped radiopharmacy and PET/MR scanner.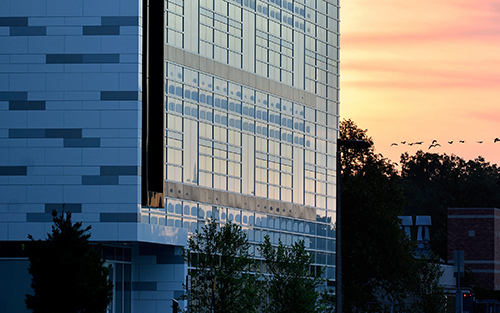 The Institute for Quantitative Health Science and Engineering is dedicated to the development of intelligent solutions to the most-pressing biomedical quandaries facing scientists and clinicians today. A collaboration among the Colleges of Engineering, Human Medicine, and Natural Science, research faculty from across campus bring a deep and wide set of multidisciplinary expertise bridging many areas of biomedical science. This expertise, fostered within a culture and architecture of openness and collaboration, ensures convergence in science and provides the opportunity to make discoveries that dramatically impact clinical care and fundamentally change our understanding of the basic biology of health and disease.
INTERDISCIPLINARY SCIENCE AND TECHNOLOGY BUILDING (ISTB)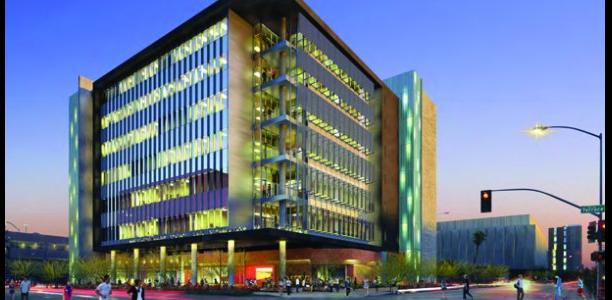 The Interdisciplinary Science and Technology Building (ISTB) opened in fall 2019. It is part of the Strategic Academic Development Initiative to provide modern teaching and interdisciplinary research space necessary to support significant growth in STEM-related fields. It also supports the university's investment in the Global Impact Initiative to recruit more than 100 new faculty investigators. Groups of faculty with aligned research interests in neuroscience, precision health, reproductive and developmental sciences, and computational genomics are a few of the primary groups that will be conducting research in this facility.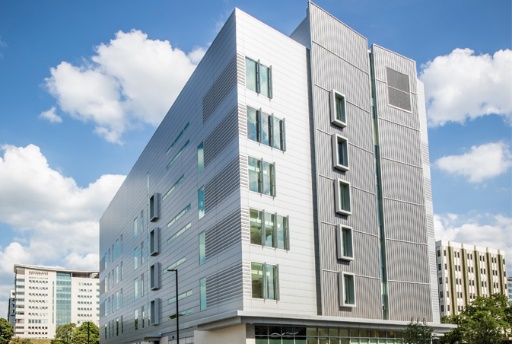 The Grand Rapids Research Center opened in 2017 as the first phase of the Grand Rapids Innovation Park. The six-story, 162,800-square-foot facility houses 33 principal investigators and their teams. MSU College of Human Medicine has recruited some of the nation's top investigators to study major health challenges including Alzheimer's disease, Parkinson's disease, autism, women's health and cancer.
BIOMEDICAL AND PHYSICAL SCIENCES BUILDING (BPS)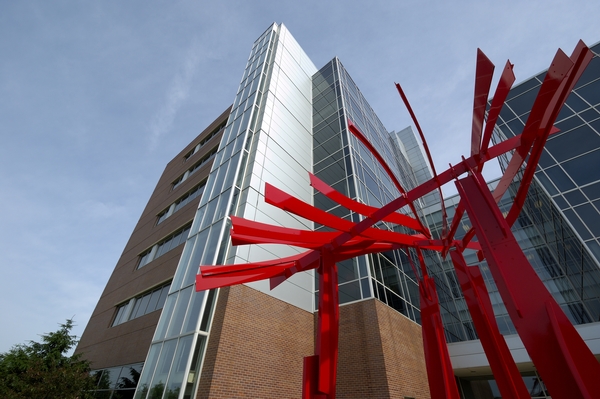 The Biomedical and Physical Sciences Building opened in 2002 to bring together scientists and their students scattered across MSU's campus. The six-story, 200,000 square foot space is home to MSU's departments of Microbiology and Molecular Genetics, Physics and Astronomy, and Physiology, disciplinary centers and projects. The building includes teaching and research laboratories, libraries, classrooms and an astronomy observation deck.
The MSU Innovation Center combines innovation, technology transfer, start-up support, and a portfolio of dedicated business and community partnerships to bring cutting-edge ideas to the marketplace. The center stewards ideas from concept to product, launching more than 130 discoveries into patented products and start-up businesses annually. By integrating innovation, technology transfer, support for start-ups, and partnerships with businesses and communities, MSU brings pathbreaking ideas to the marketplace as rapidly as possible in order to improve the quality of life in communities near and far and to help Michigan and the United States compete in a global environment.
MSU AgBioResearch encompasses the work of more than 300 scientists in seven colleges including Agriculture and Natural Resources, Arts and Letters, Communication Arts and Sciences, Engineering, Natural Science, Social Science, and Veterinary Medicine. These researchers investigate topics that range from agricultural production, alternative energy and biofuel production, food safety and environmental stewardship to childhood obesity, community development, and the quality of life of Michigan youth and families.
The MSU Bioeconomy Institute located in Holland, Michigan, provides chemical pilot plant scale-up production and conducts sponsored research and testing for both for-profit and not-for-profit entities of all sizes. The 138,000-square-foot facility complements and extends MSU campus research that supports the emerging bioeconomy, including biofuels, bio-based specialty chemicals, and biomaterials. To date, it has conducted successful production runs for four high technology start-up firms and one publicly traded corporation. It also offers business incubation opportunities and extensive laboratory space rental, as well as educational programming and training.
MSU Business-CONNECT helps companies leverage MSU's wealth of resources more efficiently. Business-CONNECT works with companies to align business goals with MSU's intellectual capacity, drawing on MSU's extensive base of human knowledge, physical assets and invaluable international connections. Business-CONNECT serves as MSU's front door for corporations, directing businesses to the right MSU resources – from recruiting students to finding a researcher for a specific project– and enabling two-way strategic communications and planning for business customers.
MSU Technologies facilitates commercial development and public use of technologies and materials developed by MSU faculty and staff. This group aims to move MSU's technologies from the lab to the marketplace to improve lives and communities locally, regionally, and around the world. MSU Technologies works with researchers on the invention disclosure and technology transfer process, files patent applications, licenses technologies to businesses, and assists in launching start-up companies based around MSU technologies.
Spartan Innovations helps MSU entrepreneurs develop their ideas, create business plans, and successfully launch highly technical businesses. Spartan Innovations works with inventors through a series of steps designed to drive towards an eventual entity formation. These steps include a discovery phase, a validation phase, and a planning phase where people and funding are identified. The end goal is to launch an entity capable of executing the business plan. Spartan Innovations provides resources to help launch new ventures including commercial/market assessment, commercial development planning, startup advising, business documentation and support services, mentoring programs, business accelerator programs such as Conquer Accelerator, venture fellows, entrepreneurs-in-residence, internship programs, business plan development, gap funds, and grant funding. Spartan Innovations also works in concert with Red Cedar Ventures, the venture arm of the MSU Foundation. Entities created with Spartan Innovations will pitch to Red Cedar Ventures for early-stage funding.
Founded in 2013, Red Cedar Ventures is the venture financing arm of the Michigan State University Foundation and provides early-stage investment funding related to technologies and companies arising from Michigan State University and curated through Spartan Innovations. Over the past five years, Red Cedar Ventures has invested over $5M to support 70 new startup companies that have gone on to raise over $200M in outside funding.
The MSU Foundation operates The University Corporate Research Park (UCRP) – a 110-acre research park that sits on the southwest corner of the Michigan State University campus. The Research Park is home to the future McLaren Greater Lansing Hospital site. UCRP also operates and manages several incubator spaces, including The Hatch, The TIC, and the VanCamp Incubator + Research Lab in East Lansing.